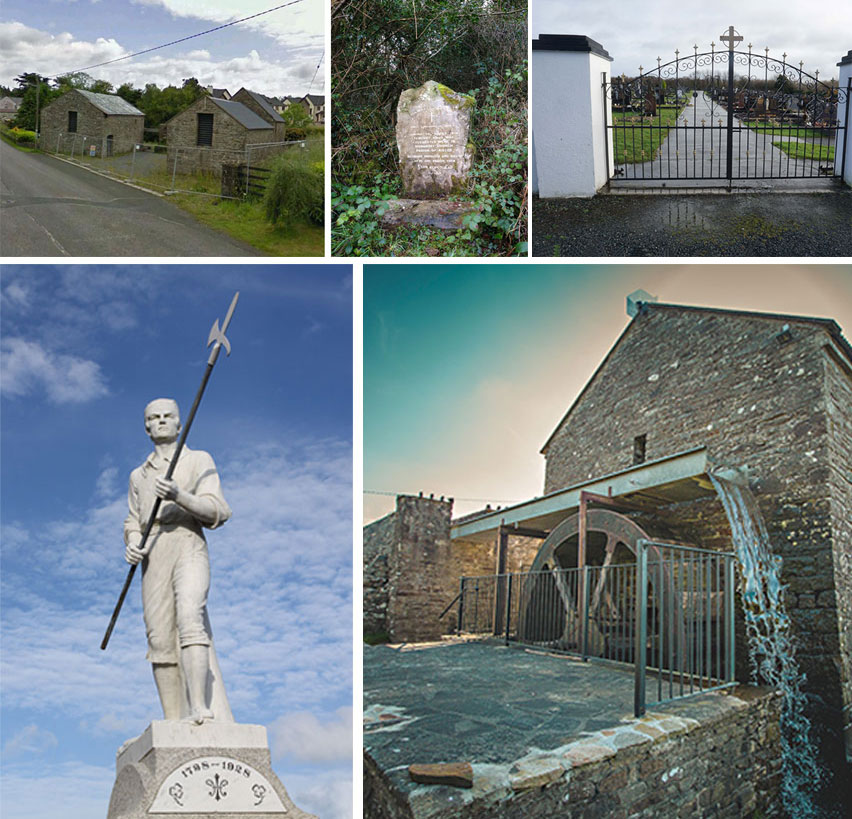 Ballinamuck and 1798
By far the biggest event in the history of Drumlish/Ballinamuck was the Battle of Ballinamuck, fought on 8 September 1798 over an area where the village now stands. A small French army had landed at Killala Bay, Co. Mayo, just over two weeks earlier, and was joined by local Irish volunteers. After fighting its way eastward, and having been joined by more Irish rebels on its way through Cos Mayo, Sligo and Leitrim, it was met at Ballinamuck by vastly superior British forces. Its leader, General Humbert, had under his command 800 French regular soldiers and about 1000 Irish volunteers, who were armed with pikes and would have had minimal military training. His opposite number, the British general Lake, had perhaps 20 times that number of regular English, Scottish and Hessian soldiers, including cavalry, as well as militia men, who came from other Irish counties and would not have been a match for trained soldiers, having been used during the restless summer of 1798 as auxiliaries and support, useful mainly for harassment and terrorising unarmed country people.
The military battle lasted half an hour. The French, down to 600 men after 200 of their number had been captured earlier by British cavalry, surrendered, were taken in custody and properly treated. The Irish, under their own officers, fought while they could but did not have the option of surrendering. Many of them were killed on the spot, on Shanmullagh hill, or fleeing, Some, including their commander General Blake from Co Mayo, were captured and hanged. A century and a half later, remains discovered in Cattan bog in Co Leitrim, a few miles away, were believed to be those of a Croppy who had escaped the battlefield but had died there from his injuries.
Stories were told for years afterwards, and are still told locally, about the battle and its consequences, about Gunner Magee, who deserted from the Longford militia and brought an artillery piece with him to help the Franco-Irish war effort, about Robin Gill, who escaped and returned in due course to his farm in Fardrumman, about lucky Irish rebels and an unlucky Hessian killed while having a drink in a local farmhouse.
The battle has brought fame to Ballinamuck and has been commemorated many times on its anniversaries. Ceremonies have been attended by Presidents Sean T O'Kelly and Mary McAleese. There are fine local memorials like the Pikeman statue dating from 1928 and the commemorative stone with its trilingual inscription from 1948. The village has been twinned with Essert de Belfort in Alsace, close to where General Humbert was born.
This was the last battle fought between regular armies, not only in Ireland but in Scotland, Wales and England, a fact that should make it of interest to people who have an interest in battlefields, wherever they may be, and like to visit them.